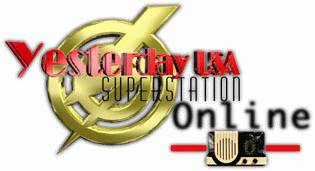 Welcome to the Yesterday USA Radio Networks web site!

MISSION STATEMENT AND PURPOSE
Utilizing an all Volunteer Staff and operating entirely by financial contributions from listeners; we will strive to present family programming, free of charge, 24 hours a day! There will be no pop-up banners on our website or on-air advertisements; and we will not sell or share our Members names or addresses with anyone! To air Old Time Radio Shows ALL DAY LONG EVERY DAY, with a LIVE Broadcast each night at 10:30 PM Eastern Time. On Monday thru Thursday Nights Bill Bragg and Mike Handy are LIVE and "interactive" with LIVE VIDEO CAMERAS and a LIVE CHAT ROOM! No special equipment or downloads are needed to view the LIVE Cameras or to enter the Members Only Chat Room!
Frank Bresee ("the Living Legend of Old Time Radio") and Walden Hughes ("the walking encyclopedia of Old Time Radio") step up to the microphone LIVE on Friday Nights.
Live Celebrity interviews with the stars of Old Time Radio, Movies, TV and Music are presented by Walden Hughes (usually LIVE) on Saturday Nights.
Walden Hughes returns to the microphone LIVE on Sunday Nights, to present pre-recorded Celebrity Interviews from his vast Library.
We are now in our 25th year of broadcasting old time radio shows and family entertainment to Hospitals, Nursing Homes and to everyone around the world!

There are 6 Way's to listen to the live feeds of the Old Time Radio Shows NOW! Select one of the choices below:
Yesterday USA is a radio station that broadcasts family oriented programming; along with actual radio shows. You can listen to YUSA free of charge; 24 hours a day, 7 days a week. There are no commercial interruptions, pop-up banners or advertisements.
On this web site, you will find lots of information, news about the station and its programming and how to support our efforts! Yesterday USA is funded entirely by contributions from it's listeners and all Staff Members are volunteers!