Psst! There's a new voice for Big Tex
Low-key decision puts Richardson man into State Fair booth
01/26/2002
By DAVID FLICK / The Dallas Morning News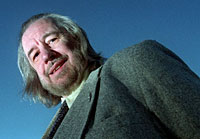 Randy Eli Grothe / DMN
Bill Bragg, 55, now the voice of Big Tex, was a finalist in April's audition.
State Fair of Texas officials Friday announced the seventh and newest voice of Big Tex, not with a boom but with a whisper.
Bill Bragg, 55, of Richardson, a free-lance broadcast engineer, will greet fairgoers next fall with the traditional drawling, "Howwwdy ... folks!" – a role that requires him to broadcast for 24 consecutive days from a booth not very affectionately known as the "doghouse."
Mr. Bragg confirmed the appointment in Texas fashion.
"As of today, I am the voice of Big Tex. Case closed," Mr. Bragg said.
State Fair spokeswoman Nancy Wiley said fair officials picked Mr. Bragg because "we worked with him before, and we just felt he could do a real good job."
The low-key decision contrasted with the high-visibility contest last April in which five finalists – Mr. Bragg included – auditioned before the gathered media.
At that time, Mr. Bragg lost to Sonny Ray Stolz, who quickly sought to become a high-profile figure. Mr. Stolz abruptly resigned in November, critical of the working conditions and contending that fair officials had subjected him to sarcasm, public humiliation and a lack of respect.
Fair officials denied those allegations. But Ms. Wiley was clearly hoping Friday that the quiet nature of the selection process might have a more placid result.
"This is the way we always used to do it," she said. "Running it as a public contest didn't have a real happy ending."
Jim Lowe, who died in 2000, was the voice of Big Tex for most of the last five decades. Mr. Lowe's last year as the voice of Big Tex was 1998. Dan Alexander took the job for two years but stepped down after he and his family moved to Arizona.
Mr. Bragg has had on-the-job training of a sort. For the last two years, his voice greeted callers to the State Fair information line.
"I did it partly in the Big Tex voice and partly in my own voice," he said. "If I did it all in that slow Big Tex voice, the State Fair would be over before you got off the phone."
Mr. Bragg is a graduate of Hillcrest High School and worked as a broadcast technician for KDFW-TV for 27 years. In 1983, he founded the Yesterday USA radio network, which specializes in broadcasting old radio shows.
He has played bit parts in movies – most notably, a bank teller in Bonnie and Clyde – and "a loud-mouth guy in a movie theater" in television's Dark Shadows, he said.
Mr. Bragg calls being the voice of Big Tex "the hardest job at the fair." He said he would try to hold the position longer than his predecessor.
"Virtually everything I do will be different," he said.
He declined to be more specific.
He is equally laconic about how he achieves the voice of Big Tex.
"I just shut my eyes and open my mouth, and it just comes out," Mr. Bragg said. "It seems to fool everybody."