Dr. Michael Biel joins host Walden Hughes, "live" via telephone, each Sunday night for a wealth of valuable information. Dr. Biel has been a Professor of Radio and Television at Morehead State University in Morehead, Kentucky for over 20 years. He majored in Communications Arts at Temple University and received his Bachelor of Science in 1968. He earned his Master of Arts and PH.D. degrees in 1970 and 1977, at Northwestern University in Evanston, IL. During his tenure as an educator, Dr Biel has taught at four (4) major colleges and Universities and at the National High School Institute. He was the manager at two (2) Radio Stations, and his personal record collection totals more than 80,000 recordings.
Dr. Biel has traveled the globe to make personal visits to all of the major Sound Archives in the world, and his expertise is often requested by The Library Of Congress and the Smithsonian in Washington, DC. "Dr. Mike is the only one I know that has more records than me, and one of these days I'm going to find a subject that he's not an expert on", laughed Walden! And as always, "live call-ins" via 714-545-2071 are always welcome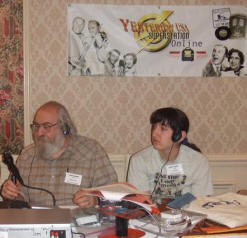 Dr. Mike and Leah, his daughter.