Bill's Piano
Do you like the piano music that has recently appeared as "fill" music at the end of each of the tapes and on Bill's live shows? This music is created by Bill's reproducing piano. A reproducing piano is like a player piano, but can also strike the keys and push the petals at a prerecorded intensity. This allows the piano to mimic the wonderful sound of Floyd Cramer, for example, as opposed to just hitting the correct notes.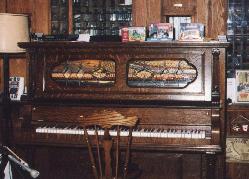 The piano is a 1902 Ellington upright grand piano (shown to the right--click on it to see a bigger picture) which has been retrofitted with the amazing PianoDisc system. PianoDisc can turn any piano into a reproducing piano! They have recently contributed a copy of their entire library of music (thousands of songs) to Yesterday USA, plus a synthesizer, plus a complete tune-up of the piano. This contribution is worth many thousands of dollars!
The complete PianoDisc music library is available at their web site. You can visit this location, pick a song title, and then email the disc number (ie: PD-2040) and song title to Bill.  He would be happy to feature the song of your choice on his nightly live show! If you are interested in the PianoDisc system, you can get complete details at their site at www.pianodisc.com.