The sounds of the 103 year old Wanamaker Organ,
The world's largest Pipe Organ,
is heard on YESTERDAY USA RADIO EVERY Wednesday EVENING at 7:00 pm EST!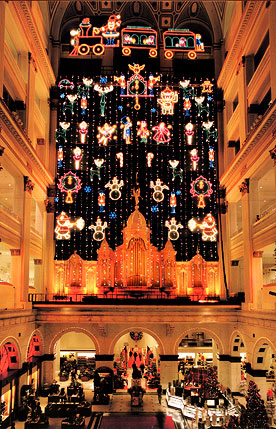 The 7 story GRAND COURT of Macy's Department Store (pictured at Christmas Time) in Philadelphia, PA.
Yesterday USA Radio is pleased to join forces with The Friends of The Wanamaker Organ, to bring LIVE organ recitals to our listeners each Wednesday evening at 7:00 PM EST. The organ celebrated it's 100th birthday during the first YUSA Broadcast on June 22nd, 2011. The organ is a National Historic Landmark and is valued in access of 57 million dollars. With it's 28,500 pipes and the 6 ivory covered keyboards, the organ occupies the entire 7 story Grand Court Atrium inside the beautiful Macy's Department Store in downtown Philadelphia, PA.
Maestro Peter Richard Conte, the Grand Court Organist of the Wanamaker Organ, is only the fourth person to hold that title since the organ was first played in 1911. Mr. Conte will present his weekly recitals each Wednesday evening and will feature selections from the world's greatest composers along with popular tunes of the day! "The "LIVE" music from the Wanamaker Organ fits perfectly into our format of Old Time Radio Shows and historical broadcasts", says YUSA Founder Bill Bragg!